About Sharkaroo
Sharkaroo is a digital securities product manager and consultancy firm, specializing in bespoke applications for complex financial structures revolving around asset, debt and equity tokenization. Our primary focus is managing Security Token Offerings for our clients in partnership with the world's leading specialist firms. We also offer a practice area in blockchain architecture and development. We provide complete project management services for the burgeoning class of companies throughout Europe and internationally, which are seeking to take advantage of the numerous benefits of asset tokenization and greater utilize what has traditionally been highly illiquid capital.
Today, we are able to offer a vendor-neutral, agnostic blockchain framework solution to nearly any established company seeking to tokenize their assets. STO's at present are unique snowflakes, custom designed to meet the client's exact requirements. While they are less expensive than an IPO, they do represent a significant upfront investment. Much of our focus is on Commercial Real Estate (CRE) market space in North America and South East Asia.
Later this year we hope to release a framework for Small-Cap Security Token Offerings that can fulfill the requirements of more modest raises in the range of $1M - $10M, in a timely and cost-effective manner.
Little known fact
Sharkaroo operated without an actual name, website or email for nearly three months. During this time we used the Beta Name, Sharks with frickin' laser beams, it seemed appropriate as the ICO market was at such a crazed pitch.
Get in touch
We at Sharkaroo would love to hear from you. Please shoot us an email and we will set a convenient time to discuss your project or idea.
CEO
Richard Piacentini
Richard is the CEO and co-founder of Sharkaroo, a digital securities provider and blockchain developer with operations in Bangkok & San Diego. He is both a Blockchain Solutions Architect and Sr. Software Development Architect.
A successful tech entrepreneur and investor with over 20 years leading development teams in five different countries. Industry focus includes: government, banking, media and startups.
Passionate International keynote speaker, Richard is expert on blockchain, distributed ledger frameworks, digital assets, securities tokenization, software architecture best practices and software development.
Creator of RailsFrance and long-term evangelist of Ruby on Rails in Europe and APAC. Founder of the "Paris on Rails" conference.
Interest areas: almost too numerous to count, everything related to **Security Tokens**, Assets Tokenization, Compliance & Regulations, Distributed Ledger Technologies: especially **Interoperability at Protocol Level**, Consensus algorithms, Zero Knowledge Proofs, Cross-chain protocols, Atomic swap(s), DApps, Smart contracts, **Stellar**, **Hyperledger Fabric and Iroha**.
Richard zips to work in Bangkok on his motorcycle—monsoon season or not—as using a car there would add hours to his daily commute.
Recent Ventures
NUXOS
Founder & CEO 2006 - Current
NUXOS Publishing Technologies
Co-Founder & CTO 2009 - Current
iziBook
Co-Founder & CTO 2004 - Current
Certifications
• Blockchain Solution Architect, 2019
• Certified Bitcoin Professional, 2017

Advisory Roles
• Hubbers, Shanghai, China
• JetSet, Los Angeles, California
CBDO
Jean Pierre Dumas
Experienced technopreneur and investor with successful startups and exits in the fields of Blockchain, ICO, PropTech, IoT, Smart Cities & Smart Buildings. Creator of the Asian building technology specialist iHome which sold to European powerhouse Somfy. Leading funded startups in smart cities, smart hospitality and IOT. JP is now bringing Blockchain to the real estate and smart city sectors.
Recent Ventures
Appysphere
CEO 2017 - Current
iHome Systems Asia
2018 - current (advisor to CEO)
2005 - 2017 (acquired)
Appy Hotel
CEO 2011 - 2016
Activities & Affiliations
Director NA Operations/CTO
Crispin Courtenay
Former CEO of Artificial Intelligence Company, AI Solutions Architect. Prolific entrepreneur and advisor. Vertical interest in Pharma, Medical, Call Center, and wide-scale IoT deployments. My focus is on Digital Securities for the Commercial Real Estate Market, with particular interest in debt funding or bond issuance. Pet project, R&D the collision of technology between quantum compute, automated machine learning, game theory and Fintech, aimed at the answer to one simple question: "Is this a good investment?"
Tidbits
• 200+ AI Courses and Certifications
• Former Chef, cook professionally once a year at large-scale events
• Side gig as photojournalist, LA Times, Getty
• Strategic Video Games Alpha Tester, latest: Starborne
• Top-5 player in MMOGGLI. Assisting the U.S. Navy to combat the threat of an enemy AI Singularity (for real…and it is as Nerdy as it sounds) there were over 20 patentable ideas generated here - not bad for playing a game!
Advisory Roles
• JetSet, Los Angeles, California
• Naissance Technologies (Industrial-Scale IoT Solutions), Riyadh, Saudi Arabia (prior)
• DevA2Z (AI-Augmented Product Development), San Diego, California (prior)


Sharkaroo is finally at the stage where we are looking to form an outside board of advisors.
Our company is a fast-moving Fintech focused on a global marketplace of security token offerings, digital securities, asset tokenization, please feel free to choose whatever buzzword resonates with you.

We also offer bespoke blockchain development services and are nearly ready to kick off internal R&D, focused heavily on establishing standards and exploring the collision of technologies between Quantum computing, Artificial Intelligence and Game Theory as it relates to the due diligence process.
Our focus at present is on the US and South East Asia markets, primarily for commercial real estate projects >$50M. Once well entrenched, we will look at other markets. We have a wide selection of global best in class partners and can offer our clients a significant range of tokenization solutions, with teams that they will enjoy to working with, and that meet, then exceed their offering requirements.
Sharkaroo is a truly distributed company, with part of the team based in Thailand, and the other in Southern California.
This is an equity vest role, no-cliff. Per Diem and travel if we have to meet in person. Advisor equity will be made whole by the founding team on each funding round.
Advisors will meet with the senior team once a month via video conference, to review the company's status and offer their feedback, inspiration and assist us in growing from a scrappy startup to a market leader in the FinTech arena. There may be an ad-hoc requirement if we require your specific advice on an area or project we are trying to solve and need your particular expertise.
Annual commitment estimated at no more than 25 hours.
Seeking Advisors with significant experience in any of the following areas
· Guru in mathematics or statistics
· Quantum Computing + AI Interface
· CRE Investor/Investment Banker
· Private Equity or Similar Sr. Financial role
· Securities Marketing (Global Outlook)
· Global Securities Compliance
· One on One Marketing to C-level teams and High Net-Worth Individuals
· Due diligence
· Derivatives and complex financial packages
Please reach out to Crispin Courtenay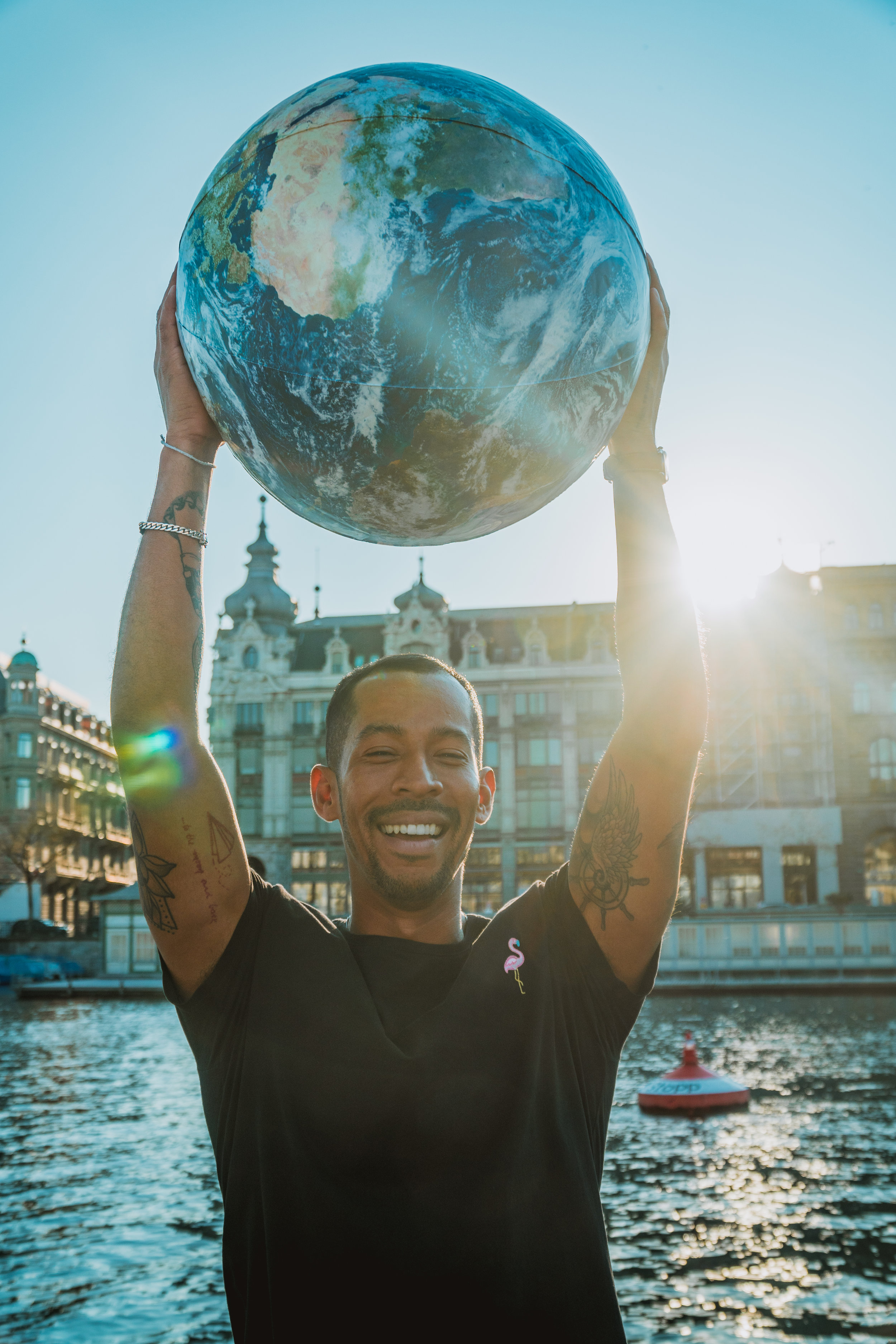 Global in nature since Day One
While most startups are worried about a small vertical market segment, the Sharkaroo team has embraced a global outlook. Part of that was due to necessity, as our founding team was literally half a world apart.
The epicenter to physically meet in person is in Zurich, with 11:35 hours of flight time from Bangkok and 11:25 hours of flight time from San Diego. This is ideal as Zurich is a major financial hub and Zug (Crypto Valley) is 30 minutes away.
We take a global rather than regional approach as each of the founders has a decade or more experience working with a remote workforce and find that we can attract superior talent if we remove location from the equation.
We also find that perusing business on a global stage tends to attract a wide-variety of high-quality projects that we would otherwise miss out on.